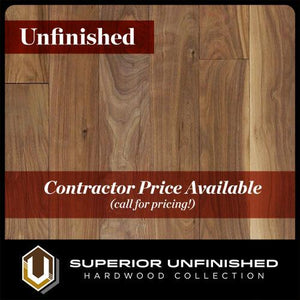 BUY ONLINE = ZERO SALES TAX!!
Most Samples Delivered in 3-5 Business Days!
Wood: Walnut (American Walnut)
Grade: #3 Common - Unfinished
Stain: None
Warranty: 50 Years
Min. Order Qty: 200SF
SKU:
If durability, beauty, and charm are qualities important to you in your search for hardwood flooring, American Walnut flooring may just be the perfect fit. It's one of the hardiest domestic species around, and is known for its stunning luxuriousness -- due largely in part to its rich chocolate brown tones, and grain patterns. American Walnut is an excellent backdrop to any decor style, and can sustain everyday use while still maintaining its elegance. See if this classic flooring is right for you.
Top 3 Things to Know About This American Walnut Hardwood Flooring
American Walnut is also known as Black Walnut.



Excellent Average Lengths - This product is consistently averaging out higher than the industry average



#3 Common Grading
Great low budget material with very high degree of color variation from board to board, large knots, open hole knots, as well as pocket knots. Large mineral streaks throughout the material. Some boards will have broken tongue & grooves, cracks on the ends, and some boards will even be unusable. Strongly recommended to adjust waste factor between 20%-30%.
Did You Know?
American Walnut hardwood flooring usually has straight graining.



Lower grades of Walnut can have "Sap Wood" and knots which is sometimes the desired look.



Walnut Hardwood Flooring is a softer wood.



Some Interesting Facts About Walnut
American Walnut is native to North America and grown in several parts, largely in the Eastern United States. You may find American Walnut in areas including Pennsylvania, New York, and New Jersey. The Carolina's, Georgia, Alabama and Florida, to the South, are also home to American Walnut. Other locales include Oklahoma, Texas, Nebraska, South Dakota and Minnesota.
While hardwood flooring is its claim to fame, American Walnut has also been fashioned into furnishings, fences, and railroad ties, and other additional creations.
The Benefits of Walnut in Your Home
American Walnut flooring is known to be a very durable wood, one of the more durable woods in North America. It has a Janka Hardness Scale score of 1010. While a bit lower in rating than the industry standard Red Oak, American Walnut is a suitable option for families, capable of withstanding the day-to-day wear and tear. Like other woods, however, remember to take care of the woods, and leave the high-heeled shoes as the door.
Another distinct quality of this wood is its remarkable color. American Walnut is admired for its rich, brown, chocolate tones. While often hosting a straight grain, the wood is also loved for its curvy grain pattern, also found throughout the boards.
Another benefit of this hardwood flooring: it's easy to clean and maintain. Use a cloth mop to remove dust, dirt and debris. A vacuum set on the bare floor setting is useful too. Use a damp mop for heavier grime, being careful not to saturate the floor with water.