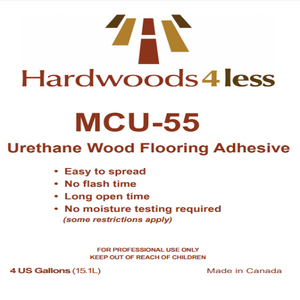 BUY ONLINE = ZERO SALES TAX!!
Most Samples Delivered in 3-5 Business Days!
Warranty: NO
Min. Order Qty: 200SF
SKU: H4L-ST-MCU-55-PIC-850
Urethane adhesive for all Engineered hardwood Flooring
High Solids Content

No Rolling Required

Spreads Easily

Cleans with Urethane Cleaner

Approved Sub Floors: Concrete slabs, osb, plywood, vinyl, Ceramic Tiles, stone, terrazzo, cured leveling compounds, Radiant Heated Sub Floors, Epoxy Sealers (100% solid, cured)

Approved Trowels/Spread Rate: Engineered Floors #5 – up to 55 SF/gal


Drying Time: Between 24-48 hours

Packaging Size: 4 gal plastic pail (36 per pallet)

Shelf Life: 12 months in original unopened container
Additional Information:
Trowels are available for item. For this specific adhesive you will need Trowel #5 and they are $15 per trowel.

The average weight per pail is around 60 lbs.

The spread rate per pail is 55 Sq.Ft per gallon

Each pail contains 4 gallons.