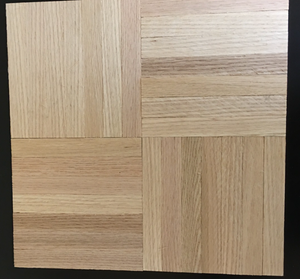 BUY ONLINE = ZERO SALES TAX!!
Most Samples Delivered in 3-5 Business Days!
Wood: White Oak
Width: 12"
Warranty: 25 Years
Min. Order Qty: 200SF
SKU: H4LOMPARGU516
Product Details:
Species: White Oak Unfinished

Width: 12" x 12"


Thickness: 5/16" 

7-Slat Parquet pattern

4 Quads

Pre-Cut Web Backing

Install: Glue

20 Sf Per Bundle
Environmentally Smart
Choosing prefinished hardwood flooring is a smart choice for the environment. Wood itself is green; it's a renewable resource with a much lower carbon footprint then plastics that are found in many carpets and some laminate flooring. Do you or a member of your family suffer from allergies? Prefinished hardwood floors are hypoallergenic. The finish will not give refuge to dust mites or microorganisms as carpets can; making hardwood flooring a smart choice for you're the environment in your home!
Lifetime of Beauty
To preserve the beauty of your hardwood flooring for a lifetime, all of our prefinished hardwood flooring is protected by seven layers of UV Cured Polyurethane infused with Ceramic particles (aluminum oxide) for scratch resistance and gloss retention. The finishes are 100% solids with no volatile organic compounds (VOCs) that can be harmful to humans and the environment. The finish is cured instantly by UV lights thus creating a safe yet extremely durable finish. This process provides the highest quality finish and durability in an environmentally friendly way.
Wow factor comes into play with this Engineered Hardwood Flooring. Don't overpay for your hardwood flooring! Call (888-705-7555) for a sample today or email sales@hardwoods4less.com